2012




Photos
Other Years
2012
2012 Field Program
The Institute conducted a Government Field Program in August 2012 for selected audiences from the federal and state government. While the resource emphasis was on energy, addressing a wide range of energy resources and their potential contributions to the Nation's energy supply, attention was given to identifying the critical interrelationships that exist between energy and other mineral resources, such as rare earth elements.
The Field Program began on Monday, August 13th in Denver, Colorado. The Program concluded on Saturday, August 18th.
At each site, participants were introduced to the geologic, technical, economic, environmental, social, institutional, and political aspects of energy and mineral production. Meetings were arranged with community groups, and others impacted by current or proposed resource development.
Participants
Participants in the 2012 Field Program included 23 individuals, each representing a federal or state government entity directly related to energy development and policy making. The benefits of attendance included gaining fundamental knowledge, networking with other professionals in the field, establishing contacts with corporate representatives, and sharing insights and points of view with other policy makers.
Participants were invited from selected agencies and organizations which have specific responsibilities for energy-related policies, including:
Federal Executive Departments
Federal Agencies and Offices (e.g. OMB, OSTP)
Congressional Agencies (e.g. CBO, CRS, GAO)
Congressional Committees (selected)
Congressional Delegations of the States Visited (selected)
Governors Offices of the States Visited
Appropriate Government Entities in the States Visited
Preliminary Reading Material
Participants in the Program were provided with selected reading material prior to commencement of the Program.
CRS Report on Carbon Capture
CRS Report -- EPA Rule on Coal Emissions (MACT)
J Burnell Critical and Strategic Minerals
J Burnell REE Publication
J Burnell REE Review (Powerpoint)
NAS-Stanford Sequestration Earthquakes
NRC Induced Seismic Report
T Sladek Oil Shale Summary
Itinerary
Day 1: Monday, August 13
7:00 AM
Breakfast briefing, Denver
Introductions, equipment, rules of the road
Presentation on energy production and use in Colorado
Tour Xcel Energy Dispatch Center – Denver
Tour Vestas Wind Systems factory – Brighton
Tour Gas-Fired Power Plant
Group dinner
Overnight lodging – Greeley
Day 2: Tuesday, August 14
Tour Bill Barrett Corp Gas Drilling Rig – Greeley Area
Lunch
Ranger-guided tour and discussion – Rocky Mountain National Park
Group dinner
Overnight lodging – Steamboat Springs
Day 3: Wednesday, August 15
Tour Trapper surface coal mine – Craig
Tour Craig Generating Station – Craig
Luncheon Discussion
Discussion of local government concerns and oil shale – Battlement Mesa
Group dinner
Overnight lodging – Glenwood Springs
Day 4: Thursday, August 16
Tour West Elk, Elk Creek,& Bowie #2 underground coal mines - Somerset
Lunch and discussion, West Elk Mine
Tour Curecanti National Recreation Area and Hydroelectric Facilities
Group dinner
Overnight lodging – Ouray
Day 5: Friday, August 17
Breakfast briefing
Tour of uranium production sites – Naturita/Nucla
Program Wrap-Up – moderated discussion
Group dinner
Overnight lodging – Gateway
Day 6: Saturday, August 18
Concluding remarks
Bus to Grand Junction Airport
Bus returns to Golden and and Denver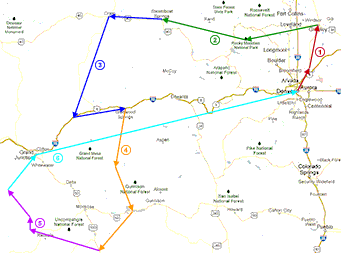 Click map for larger view
Further Information
For additional information concerning the Energy and Minerals Field Institute, please contact:
Energy and Minerals Field Institute
Colorado School of Mines
Golden, Colorado 80401 USA

Phone: 303.279.5563
Fax: 303.277.8683
Email: emfi@mines.edu