Field Programs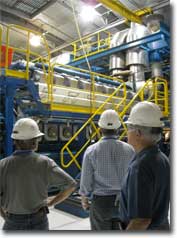 The EMFI Field Programs provide the opportunity for program participants to see, learn about, and experience examples of resource development in the Western United States. Each six-day field program consists of site visits and detailed presentations at multiple production, processing, and transmission operations and facilities.
At each stop on the journey, corporate, government, and/or other experts present information relevant to issues that affect the operation's mission, the challenges faced, and the successes achieved. Travel to the locations, lodging, and meals are fully covered by the tuition payments and scholarships.
2014 Field Program
Due to funding difficulties, we will not be offering a Field Program in 2014.
Please visit our web site again at a later time for announcements about a possible Field Program in 2015.
2013 Field Program
The Institute conducted a Government Field Program in August 2013 for selected audiences from the federal and state government. While the resource emphasis was on energy, addressing a wide range of energy resources and their potential contributions to the Nation's energy supply, attention was given to identifying the critical interrelationships that exist between energy and other mineral resources, such as rare earth elements.
The Field Program began on Monday, August 5th in Denver, Colorado. The Program concluded on Saturday, August 10th.
At each site visited, participants were introduced to the geologic, technical, economic, environmental, social, institutional, and political aspects of energy and mineral production. Meetings were arranged with community groups, and others impacted by current or proposed resource development.
Complete information about the 2013 Field Program is available now. Learn more...
Prior-Year Programs
To see full information about a prior-year Field Program, please click the year in the list below.
| | | |
| --- | --- | --- |
| 2012 | :: | Xcel Energy Dispatch Center • Vestas Wind Systems Factory • Gas-Fired Power Plant • Bill Barret Corp. Gas Drilling Rig • Rocky Mountain National Park • Trapper Surface Coal Mine • Craig Generating Station • West Elk, Elk Creek, and Bowie #2 Underground Coal Mines • Curecanti National Recreation Area and Hydroelectric Facilities • Uranium Production Sites |
| 2011 | :: | Xcel Energy Dispatch Center • Vestas Wind Systems Factory • Bill Barret Corp. Gas Drilling Rig • Rifle Generating Station • Rifle Biofuel Processing Center • West Elk, Elk Creek, and Bowie #2 Underground Coal Mines • Trapper Surface Coal Mine • Craig Generating Station • Confluence Energy Wood Pellet Fuel Plant • Estes Park Dam and Hydroelectric Power Plant |
| 2010 | :: | Xcel Energy Dispatch Center • Plains End Power Plant • Bill Barret Corp. Gas Drilling Rig • Rifle Energy Innovation Center • Rifle Solar Powered Wastewater Reclamation Facility • West Elk, Elk Creek, and Bowie #2 Underground Coal Mines • Trapper Surface Coal Mine • Craig Generating Station • Confluence Energy Wood Pellet Fuel Plant • Estes Park Dam and Hydroelectric Power Plant |
| 2009 | :: | Xcel Energy Dispatch Center • Plains End Power Plant • Bill Barret Corp. Gas Drilling Rig • Confluence Energy Wood Pellet Fuel Plant • Craig Generating Station • Trapper Surface Coal Mine • Flaming Gorge Dam and Power Plant • Jonah Field and Pinedale Anticline Gas Rigs and Wells |
| 2008 | :: | Henderson Molybdenum Mine • Tight Sands Gas Drilling Rig • Underground Coal Mines • Morrow Point Hydroelectric Station • Native American Energy Development • Animas-LaPlata Project • New Horizon Coal Mine • Nucla Generating Station |
| 2007 | :: | National Renewable Energy Laboratory (NREL) • CSM Edgar Mine • Tight Sands Gas Drilling Rig • Paraho Oil Shale Plant • Roan Plateau • Trapper Surface Coal Mine • Tri-State Generating Station • Flaming Gorge Dam and Power Plant • Trona Mines • Jonah Field and Pinedale Anticline Gas Rigs and Wells |
| 2006 | :: | National Renewable Energy Laboratory (NREL) • Shell E"P Mahogany Oil Shale Project • Tight Sands Gas Drilling Rig • West Elk, Elk Creek, and Bowie #2 Underground Coal Mines • Morrow Point Dam and Power Plant • Red Willow Production Company (Southern Ute Tribe) • Animas-LaPlata Project • Navajo Mine (surface coal mine) • Four Corners Power Plant |
| 2005 | :: | National Renewable Energy Laboratory (NREL) • Tight Sands Gas Drilling Rig • Shell E"P Mahogany Oil Shale Project • Roan Plateau • Trapper Surface Coal Mines • Tri-State Generating Station • Chevron Rangely Oil Field • Flaming Gorge Dam and Power Plant • Jonah Field and Pinedale Anticline Gas Rigs and Wells |
| 2004 | :: | National Renewable Energy Laboratory (NREL) • NREL Wind Power Lab • Elk Creek Coal Mine • Morrow Point Dam and Power Plant • Red Willow Production Company (Southern Ute Tribe) • Burlington Resources Drilling and Production Operations • Navajo Mine • Four Corners Power Plant • Hydro Resources In-Situ Uranium Mining Project |
| 2003 | :: | National Renewable Energy Laboratory (NREL) • NREL Wind Power Lab and Solar Furnace • West Elk Creek Underground Coal Mine • ChevronTexaco Rangely Unit • Asphalt Ridge Tar Sands • Flaming Gorge Reservoir and Hydroelectric Generating Station • Jim Bridger Surface Coal Mine • Jim Bridger Electric Power Generating Station • Xcel Energy Wind Farm |
Further Information
For additional information concerning the Energy and Minerals Field Institute, please contact:
Energy and Minerals Field Institute
Colorado School of Mines
Golden, Colorado 80401 USA

Phone: 303.279.5563
Fax: 303.277.8683
Email: emfi@mines.edu